WHY ABC?
The ABC Deep Water Workout delivers triple results. The "A" stands for 15-minutes of aerobic exercise, the "B" for 15-minutes of body conditioning and the "C" for 15-minutes of core training. Utilize the chapter feature in the video viewer if you just want to take away a 15-minute segment for your deep-water fitness classes. The chapter feature allows you to view just a portion of a video if you are short on time, or if you just want to add a new section to your classes.
WORKOUT-AT-A-GLANCE
This 55-minute deep water class format includes a warm-up (movement rehearsal), dynamic & static stretching and the three 15-minute segments. Each 15-minute segment includes 8 movements or simple combinations that are taught with add-on instruction. Adding on and repeating the moves forms predictable patterning that helps class participants improve form with repetition. The movement repetition also more effectively fatigues the targeted muscles. Add-on instruction also helps improve cognitive skills because class members start to identify the patterning through memory retention.
Warm-up: The warm-up is actually a movement rehearsal of some of the more intricate moves in the workout.
15- Minutes Aerobic Exercise: This class section delivers challenging cardio with simple 2-move combinations that include lateral travel, turns and spins.
15-Minute Body Conditioning: This class section features upper body muscle conditioning with hand buoys.
15-Minute Core Training: This class section includes a series of eight 2-move combos that challenge the core by going from vertical to horizontal and all around.
Dynamic & Static Stretching: This 5-minute stretch showcases zero gravity by performing the dynamic and static stretches with vertical to horizontal movement.
Why? Because if you can you should. Watch Mark talk more about the unique elements of deep-water fitness.

DEEP WATER EQUIPMENT CONSIDERATIONS - FLOTATION BELT
Flotation belts should be worn by class members in deep water classes. Why? First and foremost, it is a safety issue. If a class participant had a medical issue in deep water without a belt on, a very serious outcome could occur. This could create liability for the facility and the instructor. Aside from safety, a flotation belt also helps class participants exercise more effectively in deep water. Watch Mark explain why in the video below. Note: The Water Gym belt he is holding and wearing in that video is no longer available for sale. We now recommend the HYDRO-FIT WAVE Belt for optimal performance, comfort and quality.

DEEP WATER EQUIPMENT CONSIDERATIONS - WEBBED GLOVES
The use of gloves is not required in deep water classes, but could be considered for two reasons. First of all, they increase drag resistance and enhance upper body muscle conditioning. Additionally, they provide upward propulsion in deep water, which can help class members who tend to sink a bit, even when they are wearing a flotation belt. The gloves I am using in the video are the HYDRO-FIT WAVE Mitts.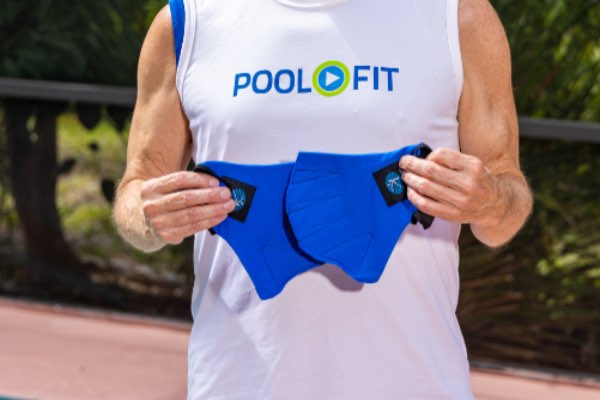 DEEP WATER EQUIPMENT CONSIDERATIONS - FOAM DUMBBELLS
The 15-minute body conditioning segment features upper body exercises using hand buoys. As mentioned in all Fitmotivation videos that include the use of foam dumbbells, buoy size is critical. Participants in a deep water class are already fully buoyant and even more so with a flotation belt on. Add in large, dense buoys to the equation and proper form and alignment become nearly impossible to attain. Watch this 6-Minute Buoy Tip Video to find out more. The buoys I am using in the video are the HYDRO-FIT Mini Hand Buoys.
Awesome new product alert! HYDRO-FIT now sells Hand Buoy Comfort Grips that velcro around the buoy handle allowing you to slip your hand in the strap. This allows you to offer frequent hand breaks to class members without the buoys drifting away.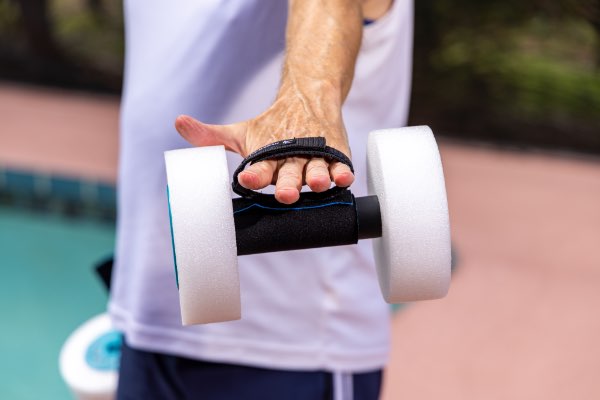 Watch Mark talk more about deep water equipment considerations and additional tips in the video below.
DEEP WATER DECK INSTRUCTION
The ABC Deep Water Workout was filmed with me in the pool to better portray proper demonstration of the exercises. Obviously, most aquatic fitness instructors teach on deck and benefit from seeing the routine led from the deck. Therefore, I wanted to include tips on teaching some of the more challenging exercises, notably the vertical to horizontal moves. Hint: It involves transforming your arms into legs by putting shoes on your hands. Watch Mark demonstrate the "Shoe Method."


I hope you enjoy teaching the ABC Deep Water Workout in its entirety or that you take away 15-minute blocks or individual moves to add into your deep water classes. And if you made it this far, I hope you took away some extra education from this blog, taking your teaching skills one notch higher. If I haven't told you lately, thank you for being a subscriber.
Author: Mark Grevelding is the founder of Fitmotivation. He is also a training specialist and consultant with the Aquatic Exercise Association's (AEA). Mark has been active in the fitness industry for 22 years as a group fitness instructor, personal trainer, international presenter and a continuing education provider for AEA, AFAA & ACE.