AquaGym Fitness Workout #11, Stretch Flex with Eliza Young is definitely different from their traditional fast-paced interval style water workouts. The first break in this tradition was the recently posted video, AquaGym Pilates. AquaGym Fitness founder, Stephanie Newberry, recognized the need to start diversifying their workouts to include components of fitness in addition to cardio and muscular conditioning. It is common knowledge among fitness instructors that most class participants only want cardio and toning. In fact, many participants leave class early during the stretching portion. But not all. Eliza Young was attending AquaGym Fitness classes and enjoying some flexibility exercises when she experienced an epiphany of how her own physical therapy could translate into a water fitness program to help others.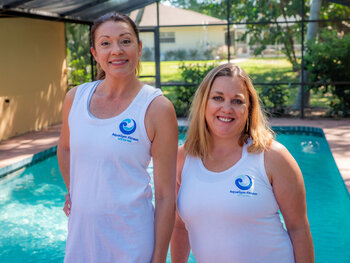 Eliza's Story
Accidentally overdosed with Vitamin A as an infant, Eliza endured months in the hospital and over 20 surgeries on her legs due to severe orthopedic issues. Told she would be wheelchair bound as an adult, Eliza embraced a lifelong dedication to fitness. She even becoming certified as a yoga instructor. The inspiration for Stretch Flex came during physical therapy sessions for her orthopedic issues. "I was placed in a tank of water and asked to walk forward and back, jog and do other exercises and as I was doing this, I realized that I could use my experience in yoga, water fitness, and my own physical therapy, to develop a class that would help others in the same way I had been helped," says Eliza. WATCH Eliza talk more about her health journey.

Stretch Flex: At-a-Glance
The Stretch Flex workout is 55-minutes long and broken into three segments, Back/Shoulders, Hips/Knees and Wrists/Ankles. "Targeting the key joints of the body by isolating the upper body, then lower, then the small joints, I could make sure the class addressed healthy joints and range of motion in a variety of ways by challenging the body to move differently and slowly enough so that a participant could observe how they feel throughout the exercise," says Eliza. At the end of each segment, Eliza includes a longer, more intense movement to maintain thermal warmth, increase body temperature and to get the body limbered up and ready for the next block.
Music playlists used in video: Pilates 1 & Pilates 2 available at Power Music Virtual Music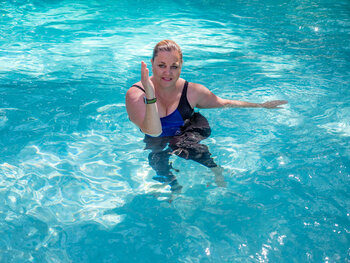 Mindful Mobility
The Stretch Flex workout is unique from other AquaGym and Poolfit workouts in that it unabashedly embraces repetition of movement, holding onto moves for a longer period of time in order to connect mind and breath to the exercise. Purposefully designed with these yoga-inspired concepts, Stretch Flex is an exercise program with a meditative approach. "As someone who has spent my whole life with physical issues, connecting to my body in a mindful way has enabled me to be proactive with my health by being aware of injury, or the potential for injury early on," says Eliza. Throughout the repetition of each movement, Eliza also relies on visualization as a way to fully explore range of motion and refine the movement.
Stretch Flex can and should be used as a compliment to other exercise programs. Training for flexibility is one of the key components of fitness and should be considered for both muscles and the joints that move the muscles. One cannot be separated from the other. All exercise is beneficial. Stretch Flex is designed to balance out your fitness regimen. Join Eliza and submerge into a mindful and meditative water stretching programming that is designed to help you live the best version of yourself, healthy, fit and free of pain and stress.
Author: Mark Grevelding is the founder of Fitmotivation. He is also a training specialist and consultant with the Aquatic Exercise Association's (AEA). Mark has been active in the fitness industry for 22 years as a group fitness instructor, personal trainer, international presenter and a continuing education provider for AEA, AFAA & ACE.