Power Trios Features AquaGym Fitness founder, Stephanie Newberry, who specializes in high intensity interval workouts. Aqua Gym Fitness (AGF) workouts are all taught to a timed interval template, but the structure of each workout is different. Power Trios features several sets of three exercises which vary in intensity from hard, harder to hardest, with the first move serving as active recovery. Each round increases in duration by including an extra trio of moves, starting at 3 minutes for the first round and then progressing to the final segment, The Finisher, which is a grueling 15 minutes.
What is VIIT?
High intensity interval training (HIIT) features all-out work cycles paired with rest cycles and has been very popular in the fitness industry over the last few years. However, regular interval training has been around for a much longer time period, often pairing a higher intensity cardio move with lower intensity strength exercise. Variable Intensity Interval Training (VIIT) is a form of interval training, typically starting with a high-intensity move performed at maximal effort, followed by a medium intensity interval with an emphasis on strength or endurance, and then finishing with a low-intensity round with an emphasis on mobility or strength. Power Trios follows this protocol but flips the training by doing the lower intensity move first. During the workout, this first lower intensity move serves as recovery. Read more about VIIT vs HIIT in this NASM article by Fabio Comana.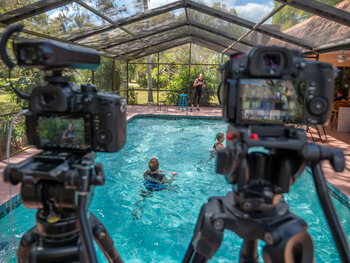 Active Recovery
Utilizing lower intensity moves as active recovery differs from HIIT workouts in which the recovery cycle is usually complete rest, also known as passive recovery. The recent Aqua Tabata Remix workout is an example of a HIIT workout using passive recovery. Many fitness enthusiasts prefer active recovery because they keep moving during their exercise routine. Instructors like it because it keeps the students more engaged in the workout. WATCH Stephanie explain the benefit of variable intensity and active recovery.

The Finisher
Power Trios features a stemplate in which the rounds increase in duration as the workout progresses. The first round features one trio for 3 minutes and progresses to the fourth round which has four trios and is 12 minutes long. The last round is the famous AquaGym Fitness surprise ending and is called The Finisher. As the deep water participant in this video, I can testify to the validity of that title. In this 15-minute round, all 10 trios, or 30 exercises are performed together as the Grand Finale.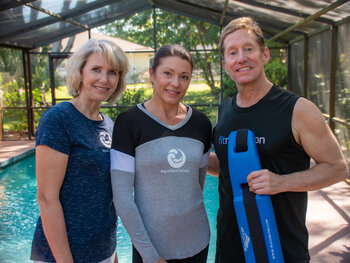 Dual Depth
Like many other instructors, Stephanie and her team have learned the value of teaching dual depth programs in the COVID era. Spatial considerations have become more important due to social distancing. Programs that can be performed in both deep and shallow water simultaneously are ideal because they optimize available pool space. Dual depth programs also provide participants with a choice, which is often appreciated given that many aqua enthusiasts have a strong preference for deep or shallow water.
Deep or shallow, I am confident you will be challenged by this variable intensity interval training (VIIT) workout. If you need to increase the challenge, try performing the recovery move at a higher intensity and also consider adding drag equipment, such as webbed gloves or the Aqualogix upper body bells and lower body ankle fins.
The weather is warming up here in Florida and spring is in the air. Enjoy!
Author: Mark Grevelding is the founder of Fitmotivation. He is also a training specialist and consultant with the Aquatic Exercise Association's (AEA). Mark has been active in the fitness industry for 22 years as a group fitness instructor, personal trainer, international presenter and a continuing education provider for AEA, AFAA & ACE.