BLOG SUMMARY
Explore the benefits of aquanatal exercise

Can this content be used for regular class programming?

An extended education handout and AEA CEC quiz is available with this video

Become an aquanatal instructor with Haylley's 13.5 hour online course

What was Haylley's surprise?

Fitmotivation Hurricane Ian Update
Many Fitmotivation subscribers are all about the high intensity water workouts and we get that. However, we will always remain committed to helping instructors expand their horizons with a variety of water fitness formats for all fitness levels and populations. Therefore we are excited to be able to provide our first aquatic fitness video that is geared towards pre and postnatal programming. Haylley specializes in aquanatal training for aquatic fitness instructors. Her U.K. organization, Aquatic Rehabilitation Exercise Academy (AREA), offers a 13.5 hour online course that trains water fitness instructors so that they can offer aquanatal classes in their own communities.
Aquanatal Exercise
According to AREA, water exercise is particularly effective for the prenatal and postnatal population because it offers a wide range of therapeutic and health benefits in the low-impact environment of the pool. Aquanatal exercise combines the therapeutic properties of the water with unique movement that prepares the body for the rigors of pregnancy in a holistic manor. In general, it is safer for mother and fetus to exercise in the water. Exercise is recommended for expectant mothers to help reduce issues such as obesity, diabetes and other health concerns. Pregnant women who are already active should be encouraged to maintain their physical activity levels. Moreover, continuing exercise activities once the baby is born has many benefits, including reducing the chance of developing postnatal depression. Watch Haylley talk more about the benefits of aquanatal exercise.

Other Class Uses
Blossoming Bumps is essentially a gentle aqua aerobic workout that can be used for other purposes. Consider using this programming for dynamic flexibility or senior classes. The muscles of the lower back become strained during pregnancy due to the anterior weight load. Many of the exercises in this class format target muscular endurance and flexibility for the lower back. Many of the exercises also target the feet and ankles because the extra weight during pregnancy also affects the lower extremities.
Fitmotivation Online Course
Given the lack of aquanatal education thus far on Fitmotivation, I thought the content deserved online education opportunities. Blossoming Bumps includes an optional online course that includes a 10-page extended education handout regarding aquanatal programming, as well as a quiz that is approved for 2.0 AEA CECs.
Become an Aquanatal Instructor
As mentioned above, Haylley developed a 13.5 hour AREA online course that qualifies fitness professionals to become aquanatal instructors. Currently, the course is only accredited for CEC approval through U.K provider, CIMSPA for 10 CPD points and Fitness Australia for 11 CECs. However, Haylley does plan on seeking AEA CEC approval for this 13.5 course. If you are interested in becoming an aquanatal instructor and/or taking this course for AEA CECs, please email Haylley directly at: AquaticAcademy@hotmail.com
Expand your horizons and increase your income as an aquanatal instructor. Watch Haylley talk more about her course.

Haylley's Surprise
Fitmotivation extends thanks and gratitude to Haylley for providing subscribers with the site's first aquanatal workout. Ironically, Haylley and I had made arrangements in February 2022 to film her videos here in Florida in May 2022. At the end of March Haylley messaged me with a surprise. She was pregnant! The news was especially heartening because she and her husband had been trying for a long time. We wish them a safe and healthy pregnancy and all the best on the birth of their first child.
The Return of the S'WET Squad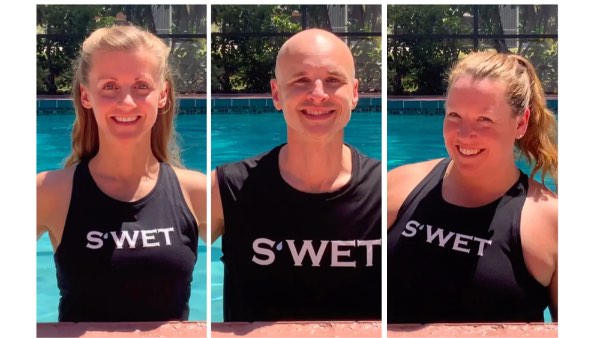 If you are one of those subscribers who is all about the high intensity water workouts, stay tuned. Jenni Lynn Patterson LaCour and Chris LaCour were back in Florida filming last month and the next two videos to post will be from their S'WET brand. Thankfully, they got the filming done just before all hell broke loose on the filming set.

Hurricane Ian Update
I would like to thank all those who reached out to me with messages of concern last week. Fitmotivation videos are filmed at my house here in Sarasota, Fl. There were many big trees down in my yard, but fortunately none of them hit the house or pool area. The power was out for six days and we had to postpone a large filming production with Katy Coffey this week. However, we are slowly getting back to business as usual. In the meantime, our thoughts go out to Floridians in the hardest hit areas. The devastation is heartbreaking.
Author: Mark Grevelding is the founder of Fitmotivation. He is also a training specialist and consultant with the Aquatic Exercise Association's (AEA). Mark has been active in the fitness industry for 22 years as a group fitness instructor, personal trainer, international presenter and a continuing education provider for AEA, AFAA & ACE.